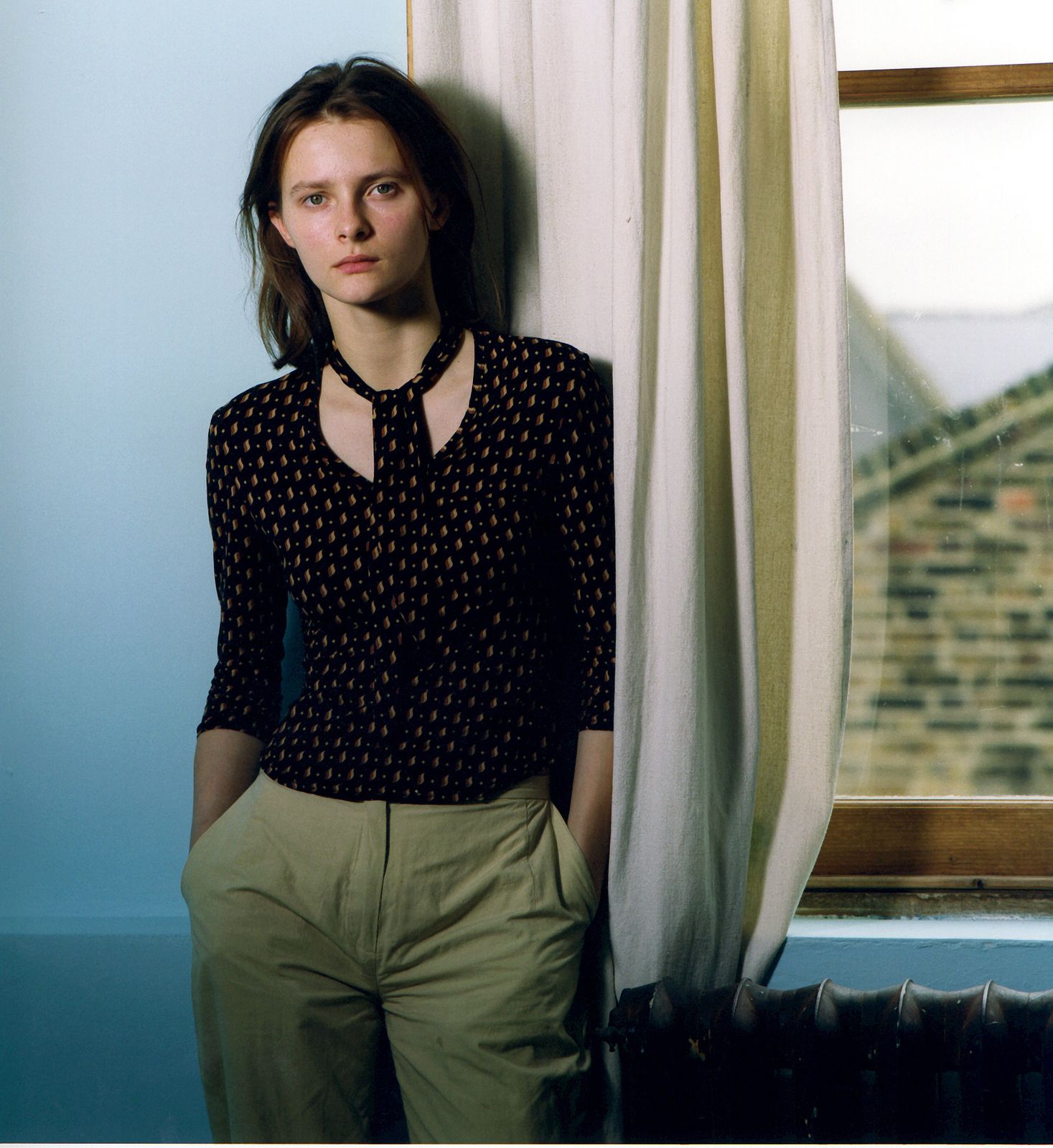 Some regards are
Question
marks.

When I write "warm regards" instead of "best regards", it means something.
In photography I don't care about the eye contact ; but I do care about genuineness. Sometimes, it takes place in a genuine regard.

I loved this image, especially, at the very moment when I was shooting it. Genuine & sad maybe, Hopper, etc...
I like it all the same today. It/She questions me.
I've been booking 5 models that I appreciated for their personnality & humanity. Their crack-ups too. I did not say anything in advance. When they arrived, one by one, I asked them if they would agree to do 2 pictures instead of 1 : the first one would be with no make-up, no fashionable outfits, nothing. Just the girl, as she arrived. They all agreed, did not asked any question, not even why. It was unusual, this was not supposed to happen, but I had this feeling they were happy with it. Like a genuine compliment.
Then using the same light, the same frame, the same position, I would shoot them as usual for a so-called "fashion picture". Reflections.
They all liked their pictures. The first ones. And they all questioned me at the end : "Which one do you prefer ?". Just guess...
The fashion story has been published as it was : a double page for each girl. No questions. The title was

"Masquerade"

.

•

Certains regards sont des points d'interrogation. De vraies
Questions
.

Quand j'écris "warm regards", au lieu de "best regards", ce n'est pas anodin.
En photographie je me moque du contact visuel ; je cherche une authenticité. Quelquefois, c'est vrai, je la trouve dans un regard. Authentique.

J'ai adoré cette image, en particulier, au moment où je la faisais. Authentique, un peu triste peut-être, Hopper, etc...
Elle me plaît tout autant aujourd'hui. Elle me questionne.
Voilà toute l'histoire : 5 mannequins pour une prise de vue, que j'avais choisies pour leur caractère et leur humanité. Leurs fêlures aussi. Je n'ai rien dit à l'avance. Quand elles sont arrivées, l'une après l'autre, je leur ai demandé si elles acceptaient de faire deux images au lieu d'une : la première sans maquillage, ni coiffure, ni vêtements de mode, rien. Juste une fille, telle quelle. Elles ont toutes été d'accord, n'ont posé aucune question. Pas même pourquoi. C'était inhabituel, ça n'était pas supposé se produire, j'ai eu l'impression que ça leur plaisait. Comme un compliment sincère.
Ensuite, je faisais une autre image, dite de mode, avec exactement le même cadrage, la même lumière, la même position. Un reflet.
Elles ont toutes aimé leurs images. Les premières.

Et elles m'ont toutes demandé, vaguement inquiètes : "Et toi, laquelle tu préfères ?". Devinez...
La série a été publiée dans son ensemble. Une double page pour chacune. Sans questions. Le titre de la série était

"Mascarade"

.