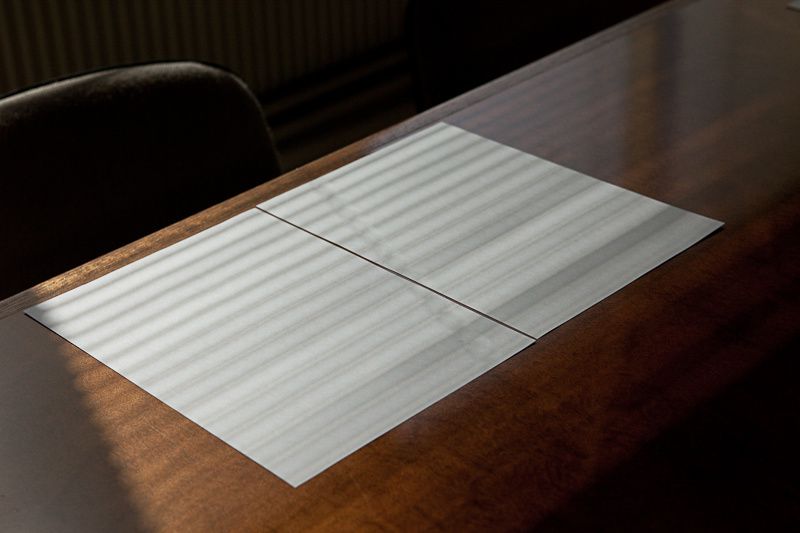 Une
page blanche.
De la lumière. Des stores. Et une page blanche blanche lignée, comme une partition. So what ? Des mots, de la musique ? Quelle urgence ? Que reste-t-il à inscrire ?
C'est là que réside la merveilleuse allégresse de la page blanche, on peut tout y mettre, elle ne contient rien, c'est l'univers des possibles, jubilatoire et vertigineux, inutile et essentiel.

Alors une partition, ce serait juste une page blanche avec de la lumière ? Smile, I.

Parfois certaines pages méritent d'être froissées.

D'autres méritent d'être encadrées.

Et certaines méritent d'être glissées silencieusement dans des enveloppes noires.

Une page blanche. Une image. Presque rien, déjà tout. Une promesse. Une réponse à une question qui n'a pas été posée. Une pensée en devenir, un rêve esquissé, les prémisses de trois fois rien. The same old story...
Il y avait une chanson comme ça, qui disait : "It's the same old story, life and love with very little glory." C'était peut-être ça, le titre, d'ailleurs : Very Little Glory. Une résonnance, comme une trace.
Le miracle, et le désastre d'Internet, c'est ça : on peut tout trouver. Il n'y a plus de pages blanches, rien qu'un amas de pages écrites, trop de pages. Donc je cherche : "Very Little Glory".

Un groupe qui s'appelait "The Opposition". OK, I buy it. Smile, II.
(Je me souviens maintenant, j'étais minuscule...) La première phrase : "I look at you and I see me, one or two extra lines maybe". Hm. Smile, III.
Retour à la page blanche.

Retour.

Le son d'une Remington quand on fait "retour". Smile, IV

"One or two extra lines maybe", c'est déjà ça, inscrit sur une page blanche.

Tiens, sur leur page blanche, ils avaient inscrits deux autres titres : "I dream in color" & "Black & white". Sincèrement, ça m'étonne, à peine. Smile, V.

•

1/ Very Little Glory