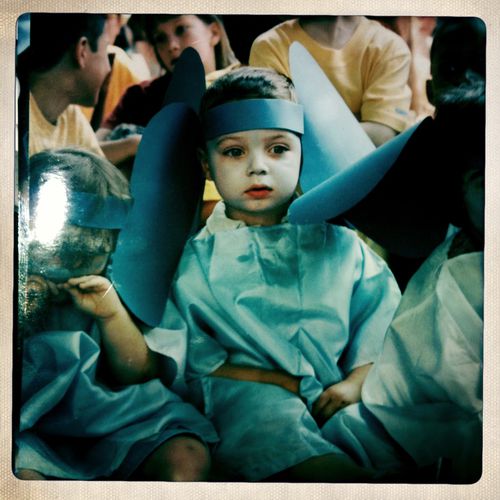 Va savoir pourquoi.
Cette photo m'a toujours bouleversée. De toutes les images de spectacles que j'ai pu faire, c'est sans doute la plus spectaculaire. A mes yeux.
Quel âge pouvais-tu avoir ? Presque 3 ans sans doute, we were just back from London.
Et dans ton regard, ce mélange de crainte, de curiosité, et d'interrogation inquiète. Les trois sentiments purs, entiers, et mêlés. Tu ne m'avais pas encore vue approcher. Fort et fragile. J'aime cette image et elle me fait mal. In the early years, human beings can't be fake. They can't pretend, they can't act. They just feel.
J'ai toujours détesté ces fêtes dites pour enfants. Ce sont des fêtes pour adultes, des adultes exigeants, durs, en demande, qui attendent de leurs élèves, de leurs enfants, des exploits beaucoup trop difficiles. Je n'ai jamais eu besoin de fêtes dites enfantines pour être fière de toi. Je n'ai jamais été à la fête dans ces moments-là. Mascarade. Exhibition.
Je m'étais fait violence pour ne pas t'emporter. Je te regardais, impuissante, je les ai laissé faire. Alors je t'ai photographié, avec la crainte, la curiosité, l'interrogation inquiète. Je n'ai su faire que ça.
Va savoir pourquoi.
Je m'en souviens, je pensais à Lilian Gish, aux derniers mots de Lilian Gish qui clôturent ce film sublime, "La nuit du chasseur", aka "The night of the hunter", le seul film qu'ait réalisé Charles Laughton. Pure merveille.
Tu me montres cette photo et tu es ému et moi aussi. Pas pour les mêmes raisons, pas seulement. Tu me dis : "Regarde comme j'étais petit." Je pense : "Regarde comme tu étais courageux."
My little blue bird, my little elephant, they could have asked you to fly just for the pride of the adults. Insane.
Anyway.
Je regarde cette photo, elle me bouleverse de la même façon.
J'entends toujours les mots de Lilian Gish.
Quant elle les prononce, face caméra, à la fin du film, ce film étrange que j'ai du voir plus de trente fois, je pleure, j'ai du pleurer plus de trente fois.
Va savoir pourquoi.
"You know, when you're little, you have more endurance than God is ever to grant you again. Children are man at his strongest. They abide. They abide, and they endure."
•