"Start with what is right rather than what is acceptable."
Franz Kafka
A you can imagine, a lot has been said and written about the book "Love looks not with the eyes". Plus the book has just started to live its own life... I was given the suggestion to make a website dedicated to this book. I declined, then I had second thoughts, and finally my team & I decided to work on it. And we made it.
To separate things.
The world is vast, and there are a million subjects, artists, details, I would love to mention here, from time to time.
I am here, page after page.
Lee McQueen is Lee McQueen. Lee Alexander McQueen.
I devoted him a book. I needed a separate page now for this book, I am happy to announce that it will be this one :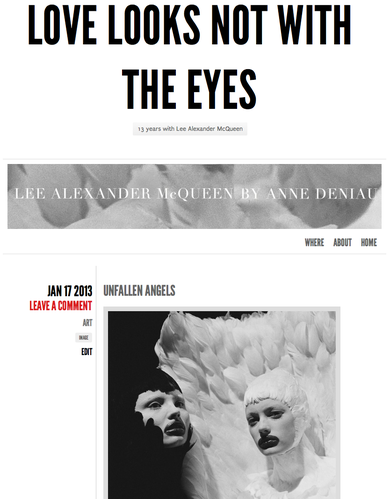 Please feel free to visit, enjoy & comment.
Meanwhile, I will do my best to remain true to myself, here, from Z to A.
To separate things.
To accept the labyrinth of time and facts.
And then, to de-labyrinth everything.
"Délabyrinthez vos sentiments", disait-elle...
•
Ann Ray 2013.