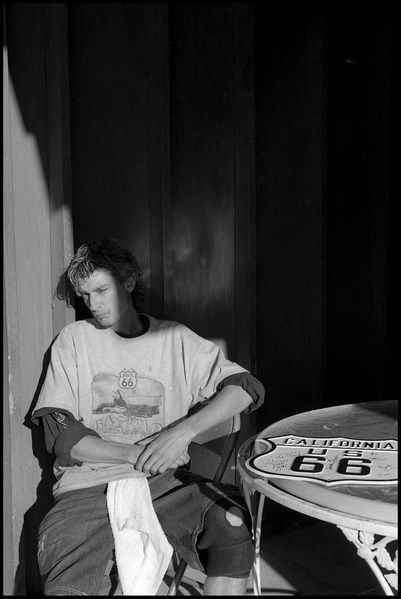 "Let's not become strangers."
Cette phrase m'obsède, je sais déjà qu'elle est inscrite, qu'elle contient ce que nous connaissons tous et que je n'avais jamais réussi à mettre en mots de manière aussi pure, aussi concise, aussi juste.
Let's not become strangers.
Nous sommes tous capables d'avoir cette pensée, j'imagine, pour des êtres que l'on connaît depuis 1 heure, 1 mois, 1 an, ou 10 ans. Des rencontres inattendues et néanmoins intenses, et authentiques, au fond du Japon ou devant une aube délavée au Bagdad Café... Des amis perdus, retrouvés, un peu perdus encore... Des êtres chers, et proches, et devenus lointains... Des rencontres fulgurantes... Des enthousiasmes décisifs... Des évanouissements de félicité... Des heures lumineuses... Des heures devenues des années parfois... Des instants où quelque chose se passe, cette chose imperceptible qui se reconnaît de prime abord, je ne sais pas comment la nommer, un écho, une harmonie, une empathie ? Bref une chose que l'on aimerait inscrite dans le marbre, et inaltérable. Une chose dont on connaît autant la force que la fragilité. Une chose qui fait sans doute le sens de la vie et qu'on laisse s'échapper parfois, coupable de négligence ou de maladresse ou de rien du tout, d'ailleurs. Anyway...
In a perfect world, we should never become strangers. Not with some people. Special.
Et pourtant. Les adultes raisonnables ne voient pas d'éléphants dans les boas et savent que dans une vie les êtres passent, et peu demeurent. Manque de temps ou manque d'attention, manque de quelque chose en tout cas. Raté, ratés.
I'm not smiling.
Let's not become strangers...
I'm only sure of one thing. The person who said these words will never become a stranger. How smart of him to say these words...
N'est-ce-pas ?
And I'm smiling...
•