Suzanne Vega.
Je connais peu de portraits qui m'attirent, infiniment. Celui-ci en fait partie. Je m'y plonge, je m'y perds, je m'y retrouve. Impossible de connaître le nom du photographe... ?!? Anyway. Reverentia. La plus belle lumière, HMI. La matière du film. Et puis, une femme. & un regard, sur ce regard-là.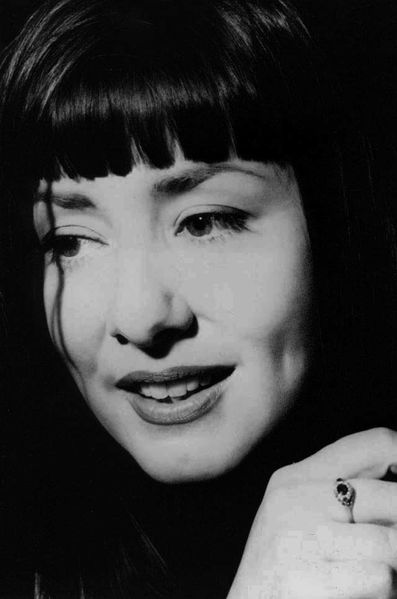 D.R.
Suzanne Vega. Je crois que je connais toutes ses chansons. Par coeur. Connaître par coeur. Etonnant comme les paroles ne s'oublient pas. Au fil des années, si la musique ressurgit, les mots reviennent, ils se mettent en place naturellement.
Une chanson. C'est difficile de choisir.
Parce que Suzanne Vega allie tout, en douceur et sans faire de bruit, depuis toujours : l'image et la présence, les textes et les mots choisis, la musique et les mélodies. Oui j'ai l'impression de la connaître par coeur. Je n'ai vu Suzanne Vega en concert que dans des théâtres, intimes, ou presque. Le Grand Rex et sa voute étoilée, le Bataclan, la Cigale... Jeudi ce sera au Théâtre Marigny. Je n'imagine pas de l'entendre, de la regarder autrement que dans un lieu à taille humaine.
Si n'en choisir qu'une, de chanson, choisir celle-ci, qui figurait sur le premier album, celui des commencements. Un album intitulé simplement "Suzanne Vega", comme quand on se présente. Une chanson. Celle-ci, évidemment : The Queen & The Soldier. C'est toujours celle que je choisis, juste avant Gipsy, Headshots & Small Blue Thing. The Queen & The Soldier. J'ai l'impression qu'elle l'aime autant que moi. A chaque fois que des voix hurlent "Tom's diner" ou "Luka" au moment des rappels, je murmure ça, "The Queen and The Soldier", et elle chante cette chanson-là ; je ne crois pas qu'elle m'ait entendue pourtant. Peut-être, parfois. Anyway. The Queen & the Soldier, ce pourrait être une chanson de geste. Une chanson de troubadour. Ou une tragédie racinienne. L'histoire d'un déserteur, et d'une reine, enfermée en elle-même. Sentiments improbables et raison d'état. Issue fatale et solitude. Une histoire d'un autre temps, enfin une chanson qui traverse le temps, de toute évidence.
Dans The Queen & the Soldier, il y a cette phrase, parmi d'autres, toutes aussi délicates et justes : "... and she closed herself up like a fan".
Et elle s'est refermée comme un éventail.
Voilà, c'est tout Suzanne. Suzanne Vega.
•
The soldier came knocking upon the queen's door.
He said, "I am not fighting for you any more".
The queen knew she'd seen his face someplace before
And slowly she let him inside.

He said, "I've watched your palace up here on the hill
And I've wondered who's the woman for whom we all kill.
But I am leaving tomorrow and you can do what you will
Only first I am asking you why."

Down in the long narrow hall he was led
Into her rooms with her tapestries red.
And she never once took the crown from her head.
She asked him there to sit down.

He said, "I see you now, and you are so very young
But I've seen more battles lost than I have battles won
And I've got this intuition, says it's all for your fun
And now will you tell me why?"

The young queen, she fixed him with an arrogant eye.
She said, "You won't understand, and you may as well not try".
But her face was a child's, and he thought she would cry
But she closed herself up like a fan.

And she said, "I've swallowed a secret burning thread
It cuts me inside, and often I've bled".
He laid his hand then on top of her head
And he bowed her down to the ground.

"Tell me how hungry are you? How weak you must feel
As you are living here alone, and you are never revealed.
But I won't march again on your battlefield"
And he took her to the window to see.

And the sun, it was gold, though the sky, it was gray
And she wanted more than she ever could say.
But she knew how it frightened her, and she turned away
And would not look at his face again.

And he said, "I want to live as an honest man.
To get all I deserve and to give all I can
And to love a young woman who I don't understand.
Your highness, your ways are very strange."

But the crown, it had fallen, and she thought she would break
And she stood there, ashamed of the way her heart ached.
She took him to the doorstep and she asked him to wait.
She would only be a moment inside.

Out in the distance her order was heard
And the soldier was killed, still waiting for her word.
And while the queen went on strangling in the solitude she preferred

The battle continued on.