(II) because the first one made me think of these words "all this useless beauty" (Ahhh! you know, this feeling, when a title has just reached that exact point of poetry and accuracy you may dream of, there is no jalousy involved, no, only the simple hope that some day, sometimes, you may find a title like this...)
All this useless beauty...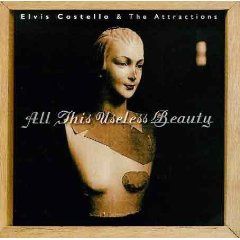 A magnificent song & album, by a magnificent poet (songwriter, composer, musicien, singer) called Elvis Costello.
(Unrestricted admiration here)
Nonsense prevails, modesty fails
Grace and virtue turn into stupidity
While the calendar fades almost all barricades
Or you may just listen to the song, maybe watch the man because grace does not fade (even if, damned ! he got older, haven't seen him for a while, life is cruel with poets too ? anyway you don't have to look, just hear...) :
There is a thousand other beautiful songs by Costello. He is a master.
From "Punch the clock" to "the Juliet letters", through "Almost Blue" and many other marvels... Enjoy !