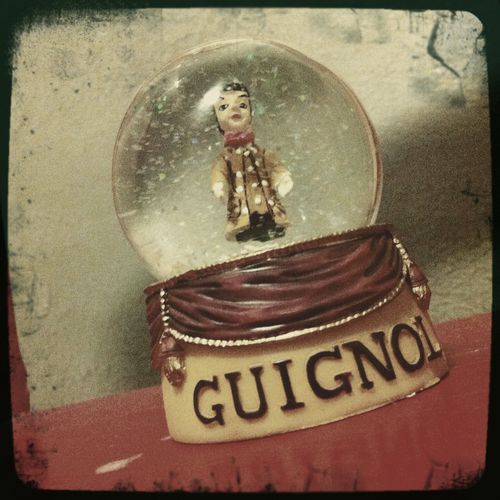 This is a true story, by the way. This happened during the last year of Kafka's life.
"Every afternoon, Kafka goes for a walk in the park. More often than not, Dora goes with him. One day, they run into a little girl in tears, sobbing her heart out. Kafka asks her what's wrong, and she tells him that she's lost her doll. He immediately starts inventing a story to explain what happened.
'Your doll has gone off on a trip,' he says. 'How do you know that?' the girl asks. 'Because she's written me a letter,' Kafka says. The girl seems suspicious. 'Do you have it on you?' she asks. 'No, I'm sorry,' he says. 'I left it at home by mistake, but I'll bring it with me tomorrow.' He's so convincing, the girl doesn't know what to think anymore. Can it be possible that this mysterious man is telling the truth ?
Kafka goes straight home to write the letter. He sits down at his desk, and as Dora watches him write, she notices the same seriousness and tension he displays when composing his own work. He isn't about to cheat the little girl. This is a real literary labour, and he's determined to get it right. If he can come up with a beautiful and persuasive lie, it will supplant the girl's loss with a different reality—a false one, maybe, but something true and believable according to the laws of fiction.
The next day Kafka rushes back to the park with the letter. The little girl is waiting for him, and since she hasn't learned how to read yet, he reads the letter out loud to her. The doll is very sorry, but she's grown tired of living with the same people all the time. She needs to get out and see the world, to make new friends. It's not that she doesn't love the little girl, but she longs for a change of scenery, and therefore they must separate for a while. The doll then promises to write the girl every day and keep her abreast of her activities.
That's where the story begins to break my heart. It's astonishing enough that Kafka took the trouble to write that first letter, but now he commits himself to the project of writing a new letter every day—for no other reasons than to console the little girl, who happens to be a complete stranger to him, a child he ran into by accident one afternoon in the park. What kind of man does a thing like that ? He kept it up for three weeks, Nathan. Three weeks. One of the most brilliant writers who ever lived sacrificing his time—his ever more precious and dwindling time—to composing imaginary letters from a lost doll. Dora says that he wrote every sentence with excruciating attention to detail, that the prose was precise, funny and absorbing. In other words, it was Kafka's prose, and every day for three weeks he went to the park and read another letter to the girl. The doll grows up, goes to school, gets to know other people. She continues to assure the girl of her love, but she hints at certain complications in her life that make it impossible for her to return home. Little by little , Kafka is preparing the girl for the moment when the doll will vanish for her life forever. He struggles to come up with a satisfactory ending, worried that if he doesn't succeed, the magic spell will be broken. After testing out several possibilities, he finally decides to marry off the doll. He describes the young man she falls in love with, the engagement party, the wedding in the country, even the house where the doll and the husband now live. And then, in the last line, the doll bids farewell to her old and beloved friend.
By that point of course, the girl no longer misses the doll. Kafka has given her something else instead, and by the time those three weeks are up, the letters have cured her of her unhappiness. She has the story, and when a person is lucky enough to live inside a story, to live inside an imaginary world, the pains of this world disappear. For as long as the story goes on, reality no longer exists."
Paul Auster, "Brooklyn Follies"
"Chaque après-midi, Kafka sort pour une promenade dans le parc. La plupart du temps, Dora l'accompagne. Un jour, ils foncent droit dans une petite fille en pleurs, sanglotant de tout son coeur. Kafka lui demande ce qui se passe, et elle lui dit qu'elle a perdu sa poupée. Il commence immédiatement à inventer une histoire pour expliquer ce qui s'est passé. "Votre poupée est partie en voyage", dit-il. "Comment le savez-vous ?" demande la petite fille. "Parce qu'elle m'a écrit une lettre", dit Kafka. Elle ne semble pas le croire. "Vous l'avez avec vous cette lettre ?", demande-t-elle. "Non, je suis désolé, dit-il, je l'ai laissé à la maison par erreur, mais je vais l'amener avec moi demain". Il est tellement convaincant que la petite fille ne sait pas quoi penser. Est-il possible que cet homme mystérieux dise la vérité ?
Kafka va directement à la maison pour écrire la lettre. Il s'assied à son bureau, Dora voit le même engagement et la même tension qu´il montre avec la composition de son propre travail. Il ne s'agit pas de tricher avec la petite fille. Il s'agit d'un véritable travail littéraire, et il est déterminé à bien faire les choses. S´il peut penser un beau mensonge et s´il peut être persuasif, il supplantera la perte de la jeune fille avec une autre réalité, un mensonge, peut-être, mais quelque chose de vrai et crédible selon les lois de la fiction.
Le lendemain, Kafka se précipite vers le parc avec la lettre. La petite fille est en attente, et comme elle n'a pas appris à lire encore, il lit la lettre à voix haute pour elle. La poupée est très désolée, mais elle est fatiguée de la vie avec les mêmes personnes tout le temps. Elle a besoin de sortir et de voir le monde, de faire de nouveaux amis. Ce n'est pas qu'elle n'aime pas la petite fille, mais elle aspire à un changement, et donc ils doivent se séparer pendant un certain temps. La poupée promet alors d'écrire à la petite fille chaque jour sur ses activités.
C'est là que l'histoire commence à me briser le cœur. Il est assez étonnant que Kafka ait pris la peine d'écrire cette première lettre, mais maintenant, il s'engage dans ce projet d'écrire une nouvelle lettre tous les jours pour aucune autre raison que de consoler la petite fille, une petite fille qui est une parfaite inconnue pour lui, une enfant vers laquelle il est allé par hasard un après-midi dans le parc. Quel genre d'homme fait une chose comme ça ? Il a travaillé pendant trois semaines. Trois semaines. L'un des écrivains les plus brillants qui aient jamais vécu, sacrifiait son temps - plus précieux que jamais - pour composer des lettres imaginaires émanant d'une poupée perdue. Dora a dit qu'il a écrit chaque phrase avec attention aux détails, que la prose était précise, drôle. En d'autres termes, c'était la prose de Kafka, et chaque jour pendant trois semaines, il est allé au parc et il a lu les lettres à la petite fille. La poupée grandit, va à l'école, fait la connaissance d'autres personnes. Elle continue d'assurer la petite fille de son amour, mais elle fait allusion à certaines complications dans sa vie qui font qu'il devient impossible pour elle de retourner à la maison.
Peu à peu, Kafka prépare la petite fille pour le moment où la poupée va disparaître de sa vie à jamais. Il lutte pour arriver à un dénouement satisfaisant, craignant que s'il n'y parvient pas, la formule magique soit brisée. Après avoir testé plusieurs possibilités, il décide que la poupée doit se marier. Il décrit le jeune homme avec qui elle tombe en amour, la fête de fiancailles, le mariage à la campagne, et même la maison où la poupée et son mari vivent maintenant. Et puis, dans la dernière ligne, la poupée fait ses adieux à son amie de longue date et bien-aimée. A ce moment-là, bien sûr, la poupée a cessé de manquer à la petite fille. Kafka lui a donné quelque chose d'autre pendant ces trois semaines, les lettres ont guéri son malheur. Elle a l'histoire, et quand une personne a la chance de vivre dans une histoire, de vivre dans un monde imaginaire, les douleurs de ce monde disparaissent. Pour aussi longtemps que l'histoire continue, la réalité n'existe plus."
Ceci est une histoire vraie, by the way. Une histoire qui s'est produite durant la dernière année de vie de Kafka.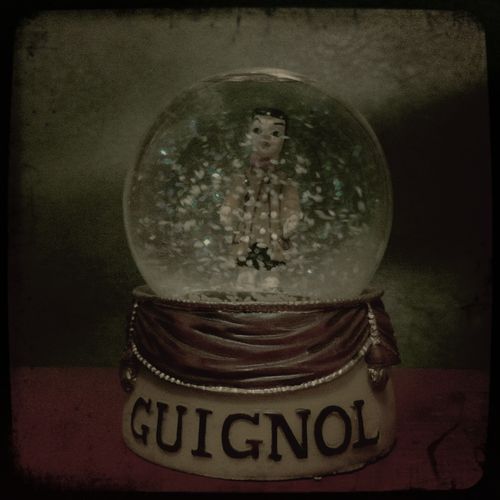 .